Please note that bookings for parties bigger than 6 people can not be made online.
We need to be sure we can fit the groups as our biggest tables are currently for 6 people.
If you have more than 6 people (Children are people too!!), please call the restaurant to book
Writing extra guests into the comments is not a guarantee that we will have space available for them!
Bookings can be made for Indoor Dining Only! Outdoor tables are available on a first come, first serve basis.
Please be aware that due to demand bookings are limited to 90 mins total time at the table and any party that does not arrive on time will have their table reassigned resulting in the booking being lost!
Proof of vaccination/immunity along with Photo ID is required for all indoor dining guests over the age of 18.
Summer Opening Hours!

Thur 3-10pm

Fri 1-10pm
Sat 1-10pm
Sun 1-10pm
Mon 3-10pm
Tue & Wed – CLOSED
Please be aware MASKS ARE MANDATORY to enter building & please sanitise on your way in!
Our menus are available here on our website under the MENU tab. Specials are posted to our social media, FB and Instagram, daily.
The Brick Oven's Gluten Friendly Options are appropriate for guests with mild gluten sensitivity. However, they are not recommended for guests with coeliac disease. While the crust is prepared off-site in a gluten-free production facility, current store operations cannot guarantee that each handmade pizza does not contain trace amounts of gluten.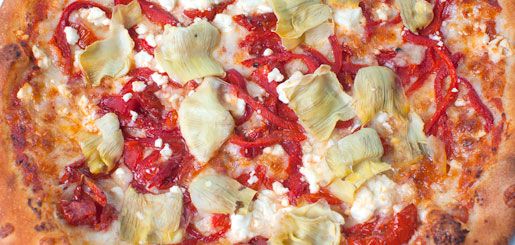 About our Oven
Our Wood Burning Pizza Oven was built in 1997 from heat resistant concrete and blocks. The oven is kept at a temperature of 500-550F by burning oak and other hardwoods which are fed through the front by a long handled shovel. This ensures the maximum flavour and a crispiness for every pizza we make. It can hold up to 10 large pizzas at once and cooking time is between 7-10minutes. Be sure to take a look at the oven and pizza making process using our own homemade dough and Brick Oven pizza sauce.